We are dedicated to truth and morality. The links to the left will help you to navigate quickly between various editorials. Our material has been fact-checked through at least two sources.
Most of our material can be found elsewhere, but here, there are no embedded advertisements, the pages load quickly, and you don't get solicitations to "subscribe" in order to read the "rest of the article".
We try not to be biased, giving space to both liberal and conservative views, but in the process of revealing falsehoods, one side of the coin invariably emerges with more attention.
---
Nov. 5, 2020 - Election results still not certain
November 5, 2020, 10:15 AM:
Trump has reduced the gap with Biden in Arizona. Vote counting continues, and there is a chance that he will overtake Biden. The next release of votes in Maricopa County, the state's largest, is not expected until tonight.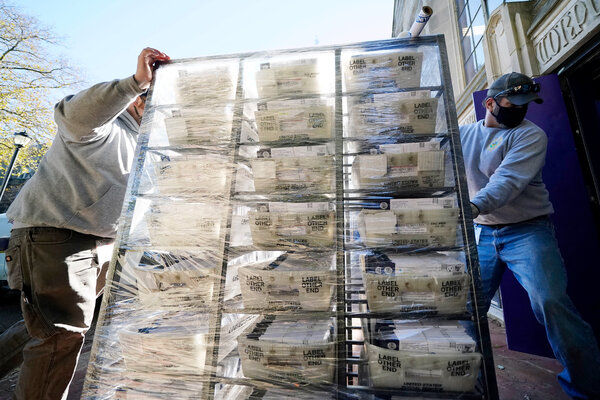 Mail-in and absentee ballots in Pennsylvania.Matt Slocum/Associated Press
Biden currently has 253 electoral votes. He has several paths to 270, which would be a victory. Winning Pennsylvania would accomplish that, and most analysts have picked him as a favorite there.
Trump's campaign is putting forth legal challenges, trying to halt ballot counting in Pennsylvania and Michigan. He is also challenging the handling of mail ballots in Georgia, and is calling for a recount in Wisconsin. Even if he loses, Trump has asserted his intent to remain a public figure. At the white house yesterday, Trump attempted to discredit the election based on invented fraud claims.
If Trump loses, as looks likely, it would mark the first defeat of an incumbent president in 28 years. On election night, at the White House, Trump's mood shifted from upbeat to angry when Fox News declared Arizona a win for Biden. (Arizona's result is still uncertain.)
Here in Michigan, Gary Peters won re-election to the Senate. In Maine, Sara Gideon conceded to Senator Susan Collins, the Republican contender. That leaves Democrats with 48 Senate seats and four races still undecided, but the Republicans candidates appear certain to keep the majority.
And finally, Yesterday, The U.S.A. formally quit the Paris Agreement, the accord to combat climate change. This makes us the only civilized country to declare separation from the agreement. If Biden wins, he has stated he would recommit to it on his first day in office. I think we should hold him to that agreement, as well as his promises to enact stronger legislation to deter gun violence. But first, we need to count all the votes and see if he won.

Coronavirus surges in Republican areas
October 17, 2020, 8:49 AM: Adriana BelmonteˇSenior Editor, Yahoo Finance
There are 8 million confirmed U.S. cases of coronavirus, but President Trump disdains mask wearing and falsely claimed during a town hall this week that "85% of the people wearing masks catch Covid-19", despite becoming infected himself. At the same time, Republican-leaning areas of the U.S. are now experiencing a surge in coronavirus cases.
"To the extent that public health measures have become politicized, it really should be no surprise that we see that the spread of the disease runs along political lines," said Dr. Steven McDonald, a New York-based emergency medicine physician, on Yahoo Finance's The Ticker (video below). "When you have a Republican president telling Republican supporters that mask wearing is not necessary, even after he's had coronavirus from a maskless event, it's no surprise that we see surges in Republican areas."

Doctor Steven McDonald comments on Republican supporters disdain for mask wearing
Data compiled by web developer Dan Goodspeed shows just how badly Republican-leaning areas have been hit in the last four months as compared to Democratic-leaning states: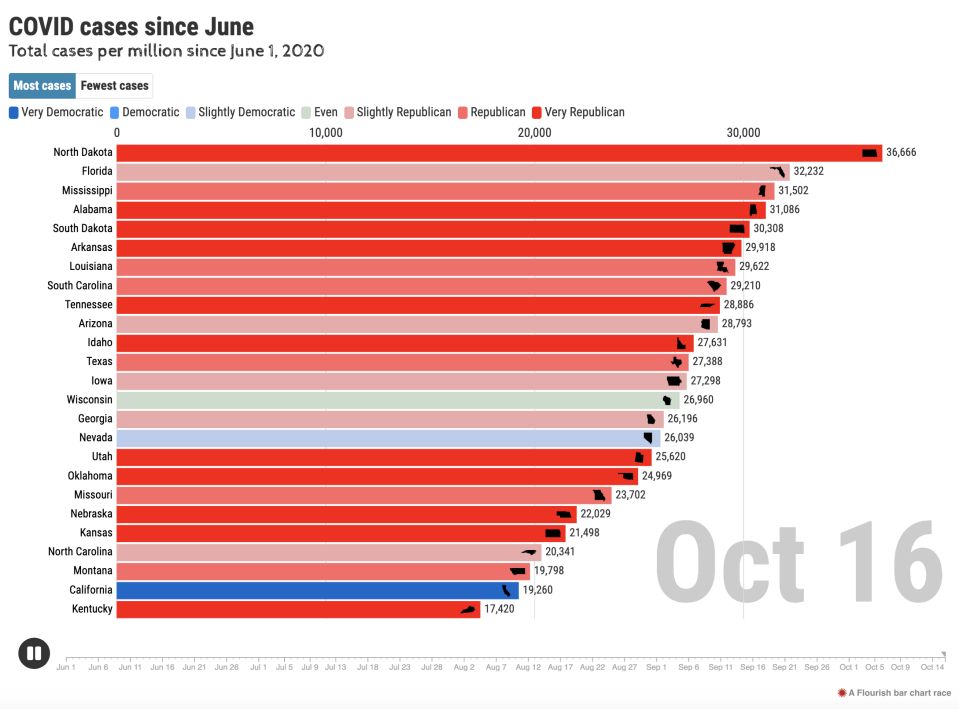 Coronavirus cases in the U.S. since June. (Dan Goodspeed/New York Times data)
Coronavirus initially spread quickly on the American West coast and the Northeast, with New York City becoming the global epicenter for a time, before transmission declined rapidly after governors implemented statewide mask mandates and stay-at-home orders.
The South experienced its own wave of cases after governors lifted restrictions early into the pandemic, and transmission remains troublingly high in that region. In recent months, coronavirus spread as moved across the Midwest. Now, states in the West including Wyoming, North Dakota, South Dakota, and Idaho are seeing their own spikes in cases amid lax social distancing policies.
North Dakota and South Dakota currently have the most confirmed cases per capita among U.S. states, according to data from the New York Times. South Dakota's governor, Kristi Noem, a Republican and staunch Trump supporter, declined to impose any mask mandate or business restrictions within her state. She's also attributed the surge in cases to increased testing, although that doesn't account for the surge in hospitalizations her state is also experiencing.
Recently, Michigan's supreme court struck down Governor Whitmer's (Democrat) mask and distancing mandate, and within a week, that state's rate of infection began trending upward, after months of low rates.
---
The Greatest Paradox of our time
Being wrong should make us question our assumptions. But more often, it has the opposite effect. When we see signs that we have made a mistake, we choose to disregard the evidence and double down on our prior beliefs. A perfect example is the latest actions by governors across the nation, choosing to ignore every early signal that they were wrong, and push onward into the cresting wave of an epidemic that is now higher than the original tsunami. And when what is involved are questions of values and lives, people retreat even further into their certainties. That is evident in our current headlines about some of the last defenders of the Confederate flag. Seeing where others have been wrong, though, is easy. Examining our own assumptions is vastly harder. But it is worthwhile if you want to prevail over stupidity.
Fighting to Save The Planet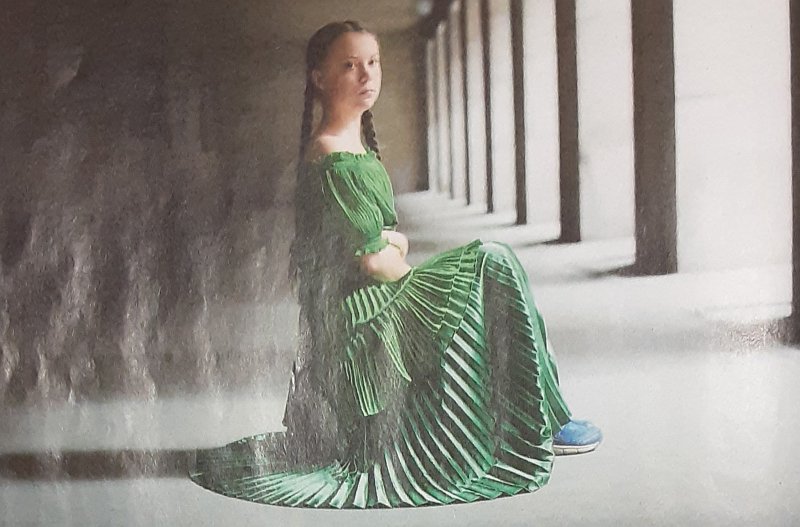 Nobel Peace Prize nominee Greta Thunberg, age 16, accepted an invitation to speak at the United Nations in New York City in September, 2019. She knew ahead of time that it would be a long journey. She choses not to fly because airplanes account for a very high level of carbon emissions. Instead, she made the journey by sailboat. The publicity of her 15 days at sea helped her inspire 6 million people in 150 countries to march in protest in the streets on September 20th. It was a far cry from the showing at her first protest, where she sat alone outside Sweedish parliment the previous year.
She is also an activist for sufferers of autism. She calls her affliction with Asperger's her "superpower", claiming that "Being different is a good thing." She encourages others to educate themselves on climate science and push their leaders for substantive and immediate changes. "People are unaware how big this crisis is. We are not doomed unless we choose to be. My hope is that we can fix this crisis in time.
Personal note: I hope that the upcoming president of the U.S. will heed the cry. Let's not let Greta's efforts go in vain. Our planet certainly needs the cooperation of all nations, and all citizens to stop the waste, and care for our precious resources.
---
Sept. 17, 2020 The college money crisis [from the New York Times]
The coronavirus has caused severe budget problems for American higher education. But many colleges' financial troubles are much larger than the virus. They have been building for years and stem, above all, from a breakdown in this country's hodgepodge system of paying for higher education.
The current system arose after World War II and depended on three sources of money: students (and their parents); the federal government; and state governments. Of those, state governments were supposed to provide the most money. That's why many Americans attend something known as a state college.
Over time, though, state officials came to a realization. If they cut their higher-education budgets, colleges could make up the shortfall by raising tuition. Many other state-funded programs, like health care, highways, prisons and K-12 education, have no such alternative.
"In every economic downturn since the 1980s, states have disproportionately cut college and university budgets," Kevin Carey writes in a new Washington Monthly article that offers an exceptionally clear description of the problem. Since 2008, states have cut inflation-adjusted per-student spending by 13 percent, according to the Center on Budget and Policy Priorities.
These budget cuts have left most colleges struggling for resources, even as elite colleges, both private and public, can raise substantial revenue from tuition and alumni donations. Not surprisingly, inequality in higher education has grown. Many poor and middle-class students who excel in high school attend colleges with inadequate resources and low graduation rates - and end up with student debt but no degree.
And research repeatedly shows that college matters: Graduates are more likely than nongraduates to be employed, to earn good salaries, to be happy and to live long lives.
The decline in state support for higher education is unlikely to reverse itself, and most middle-class families can't easily afford to pay rapidly rising tuition bills. That leaves the federal government. A central question, then, is whether it will step in - or whether a college education will become ever more of a luxury good.
Potential solutions: Joe Biden has proposed a big expansion of federal support for higher education, which would make college free for any family earning less than $125,000 a year. President Trump does not have a plan to make college less expensive.
Kevin Carey, who works at the New America think tank, argues that Biden's plan sends too much money to elite colleges that don't need it. Carey instead proposes a new federal program in which colleges - including community and technical colleges - could choose to receive more funding in exchange for charging a simple, affordable tuition.
But regardless of which suggestion wins out, the solution will require either higher taxes or deficit spending. The decision rests with you, the public, not the president, and not your governor.
Courtesy of New York Times daily briefing.
Jump to latest entry
---
Sept. 19, 2020: on the death of Ruth Bader Ginsburg
"I want you to use my words against me. If there's a Republican president in 2016 and a vacancy occurs in the last year of the first term, you can say Lindsey Graham said let's let the next president, whoever it might be, make that nomination. And you could use my words against me, and you will be absolutely right."
~Lindsey Graham
March 10, 2016

Senator Lindsey Graham makes a solemn promise to stand by his decision of 2016
Senator Graham, who as chair of the Senate Judiciary Committee would oversee confirmation hearings, reversed his earlier position, and said Saturday that he would support President Trump "in any effort to move forward regarding the recent vacancy created by the passing of Justice Ginsburg."
Graham repeated the sentiment in October 2018 in an interview with The Atlantic's editor-in-chief, Jeffrey Goldberg. "If an opening comes in the last year of President Trump's term, and the primary process has started, we'll wait till the next election."
Just watch the video below

Senator Lindsey Graham in 2018 repeats his promise in an interview with Jeffrey Goldberg, editor in chief of "The Atlantic"
On Saturday morning, Trump was resolute in his call for Ginbsurg's seat to be filled immediately. He tweeted: "We have this obligation, without delay!"
A short time later, Graham responded. "I fully understand where President @realDonaldTrump is coming from," he said, retweeting the president's comments. "As to my view of filling a Supreme Court vacancy in 2020, I'd encourage you to review these most recent statements," he added, citing his remarks to NBC News in August that "the rules have changed."
Things are different now because of two moves made by Democrats over the past decade, Graham said. The first was when then-Majority Leader Harry Reid of Nevada changed Senate rules to allow for a simple majority vote for circuit court nominees.
The second, Graham said, was when "Chuck Schumer and his friends in the liberal media conspired to destroy the life of Brett Kavanaugh and hold that Supreme Court seat open."
Graham's explanation of the changing rules leaves out some important context. While it is true that the Democrat-controlled Senate invoked the so-called "nuclear option" in 2013 to make it easier to pass lower court judges in the face of Republican opposition, it was McConnell who raised the stakes in 2017, applying the same simple-majority rule to Supreme Court confirmations.
McConnell said Friday that whomever Trump nominates will get a Senate vote. That would go against Ginsburg's final wishes. In a statement dictated to her granddaughter just days before her death, Ginsburg urged delaying a vote to fill her seat. "My most fervent wish is that I will not be replaced until a new president is installed," she said.
In addition, Graham made the same statement. Ted Cruze made essentially the same statement, and McConnell made the same statement.
Let it be noted that Senator Graham is citing democratic decisions made in 2013 to justify breaking a promise he made in 2016, saying "Things have changed." Nothing significant has changed since his 2016 (and 2018) speech.

P A N T S . . O N . . F I R E . X . 3